Sharing Innovations for Sharing a River
Update on the Río Grande / Río Bravo Binational Water Forum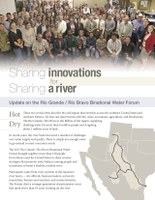 Hot, dry. These two words often describe the arid region that stretches across the southern United States and northern Mexico. Yet this vast desert teems with life: cities, economies, agriculture, and biodiversity. Dry The Rio Grande / Río Bravo is the lifeline of the region, supplying drinking water for more than 6 million people and irrigating about 2 million acres of land.
In recent years, the river basin has faced a number of challenges over water supply and quality. There is simply not enough water to go around to meet everyone's needs.
The 2017 Rio Grande / Río Bravo Binational Water Forum brought together more than 150 people from Mexico and the United States to share creative strategies that promote water balance among people and ecosystems to foster a healthy, resilient river.
Participants came from every portion of the expansive river basin — city officials, business leaders, university researchers, farmers and ranchers, and conservationists. The Forum drew a younger generation of participants: most had spent fewer than 10 years working on the river.
Document Actions