National Association of State Foresters Weekly Newsletter February 21 2020
This week in #forestry and #wildlandfire news from across the country and around the world!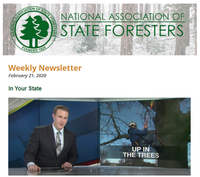 From Nebraska
New forestry major coming to the University of Nebraska [1011 NOW]
This fall, students at the University of Nebraska Lincoln will be able to
declare a new major. It's called regional and community forestry.
More from Nebraska:
Bug wars: Feds introduce Asian wasps to battle emerald ash borer outbreak
in Lincoln area [Fremont Tribune]
In Kansas:
Reclaim your ground from invasive trees [Morning Ag Clips]

Landowners and managers in southwest Kansas are invited to a free workshop
and field demonstration focused on the management and removal of tamarisk,
also known as saltcedar.
From Colorado:
Winter tree watering necessary during drought [Durango
Herald]

Trees in urban and community settings throughout this area are dormant now,
but they still require occasional watering during dry winters to remain in
top health.

Read more...
Document Actions