Five Star Urban Waters Grants Awarded to Rocky Mountain Youth Corps Project in New Mexico
With support from EPA, community-led projects will restore urban waters and streams, address water quality in priority watersheds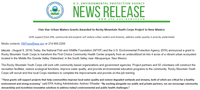 Media contacts: R6Press@epa.gov or 214 665-2200
DALLAS - (August 9, 2018) Today, the National Fish and Wildlife Foundation (NFWF) and the U.S. Environmental Protection Agency (EPA) announced a grant to Rocky Mountain Youth Corps to transform the First Choice Community Health Center property from an underutilized lot into 4 acres of a vibrant urban ecosystem located in the Middle Rio Grande Valley Watershed, in the South Valley near Albuquerque, New Mexico.
The Rocky Mountain Youth Corps will work with community-based organizations and government agencies. Project partners and 50 volunteers will construct the recreation facilities, restore ecological functions, improve water quality, and provide environmental education programs to the community. Rocky Mountain Youth Corps will recruit and hire local Corps members to complete the improvements and provide on-the-job training.
"These grants will support projects that help communities improve local water quality and restore degraded wetlands and streams, both of which are critical for a healthy environment and strong economy," said EPA Acting Administrator Andrew Wheeler. "By working alongside our public and private partners, we can encourage community stewardship and incentivize innovative solutions to address today's environmental and public health challenges."
"This grant money will help Corps members in New Mexico gain critical life skills while learning the value of community service," said Regional Administrator Anne Idsal. "The restoration will benefit the economy of South Valley and the public health of its residents."
 "Rocky Mountain Youth Corps is excited to partner with First Choice Community Healthcare, Bernalillo County, and Valle de Oro National Wildlife Refuge to restore McEwan Pond, an important piece of land in Albuquerque's South Valley," said Jordan Stone, Rocky Mountain Youth Corps Middle Rio Grande Program Manager. "This grant will allow RMYC crews to build a prescription walking trail around the McEwan Pond property, remove invasive species, and plant native species and fruit trees. The project will provide food, habitat, and shade for both wildlife and local residents."
"The Five Star and Urban Waters Restoration Program generates measurable results for wildlife and communities across the nation," said Jeff Trandahl, executive director and CEO of NFWF. "The 59 grants announced today will help communities improve water quality and support wildlife through a variety of conservation efforts, from the removal of invasive species and planting of native vegetation to the reduction of stormwater runoff and creation of wetlands."
The Rocky Mountain Youth Corps grant was among 59 Five Star and Urban Waters Restoration Program grants awarded, totaling $2.2 million to restore wildlife habitat and urban waters in 30 states and the District of Columbia. Grantees have committed an additional $5.2 million in local project support, generating a total conservation impact of more than $7.4 million.
The grant is awarded through the NFWF's Five Star and Urban Waters Restoration Program which support projects that develop community stewardship of natural resources and address water quality issues in priority watersheds across the country. Support for the 2018 Five Star and Urban Waters Restoration Program is provided by the Wildlife Habitat Council, and major funding by EPA, U.S. Forest Service, U.S. Fish and Wildlife Service, FedEx, Shell Oil Company, Southern Company and BNSF Railway.
A full list of 2018 projects is available:http://www.nfwf.org/fivestar/Documents/2018grantslate.pdf
Since 1999, the Five Star and Urban Waters Restoration Program has supported more than 945 projects, with more than $11.9 million in federal funds, $10.6 million in private and corporate contributions, and $74.7 million in matching funds at the local level.
For more information about the Five Star and Urban Waters Restoration Grant program, visit https://www.epa.gov/urbanwaterspartners/five-star-and-urban-waters-restoration-grant-program-2018
Connect with EPA Region 6:
On Facebook: https://www.facebook.com/eparegion6
On Twitter: https://twitter.com/EPAregion6
Activities in EPA Region 6: https://www.epa.gov/aboutepa/epa-region-6-south-central
Document Actions