Cebola Canyon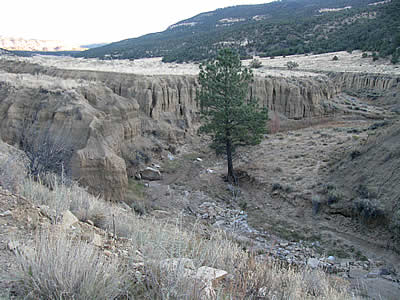 Springs, wetlands, and riparian habitats are extremely scarce in the El Malpais area of Cibola County in west-central New Mexico. Permanent water is undoubtedly what drew homesteaders to Cebolla Spring during the Great Depression. Hoping that subsistence farming was a way to survive hard times, they drained the wetland and impounded water from the spring to use for irrigation. Now their stone cabins lie in ruins and the irrigation system is no longer functioning. Deep headcuts and gullies form gashes down the valley bottom.

In a concerted effort to implement a comprehensive ecological restoration of Cebolla Canyon within Cebolla Wilderness and El Malpais National Conservation Area, the New Mexico Environment Department, the Rio Puerco Alliance, and the Bureau of Land Management acquired funding in early 2009. NMED received a $265,000 wetlands grant from the Environmental Protection Agency, RPA received $159,000 from the state's River Ecosystem Restoration Initiative, while BLM is expected to receive additional funding from the American Recovery and Reinvestment Act of 2009 ("Stimulus Act").

The Bureau of Land Management began restoration work in this area in 1994 by constructing a 7-acre livestock exclosure around the spring. In just one growing season, a mud bog was transformed into a nascent wetland. Since 2000, the Albuquerque Wildlife Federation has organized volunteer work days under the direction of Bill Zeedyk to help with the restoration effort. The small structures the volunteers have built are rewetting the meadow, widening the stream banks, and building up the channel bottom. We will be continuing this work in an attempt to demonstrate innovative techniques to return land altered for agricultural use to its natural condition. This could provide the basis for other projects using similar techniques to return many acres of land hydrologically modified for agricultural use to their original condition in New Mexico, which would have enormous benefits to the watersheds.

Document Actions