2010 New Mexico Watershed Forum
Please note that the New Mexico Watershed Forum will be held at the Albuquerque Hilton located at 1901 University Blvd. NE. from September 28th-30th.
Teaming Up for

Healthy Watersheds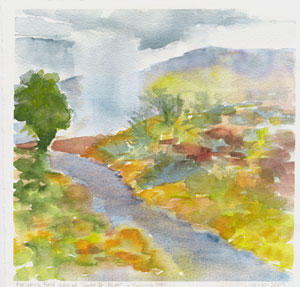 From the upper snowcapped peaks down to the agricultural fields and bosque floodplains, maintaining and improving the health of New Mexico's watersheds requires collaboration between individuals and groups. Please join us for the second New Mexico Watershed Forum at the Albuquerque Hilton September 28th-30th. Plenary sessions, workshops, and field trips over the course of three days will offer opportunities to examine and build upon the cooperative relationships that have led to successful watershed-based planning and restoration.
This statewide Forum aims to gather watershed professionals and group leaders, Tribe and Pueblo leaders, volunteers, contractors, soil and watershed conservation districts, students and faculty, and local, state, and federal agencies interested in improving the health of watersheds. All are welcome to attend and share their experiences.
Online registration for the Forum has opened. The early-bird Forum registration cost is $130 for applicants that pay by September 6th. Registration costs or payment received after September 6th will be $150. More information on Forum costs, the location, and directions can be found by clicking on Registration and Lodging. Please note that creating a user name on the registration page does not commit you to registering for the Forum at this time.
For more information, check out the forum website at www.watershedforum.org/.
Document Actions